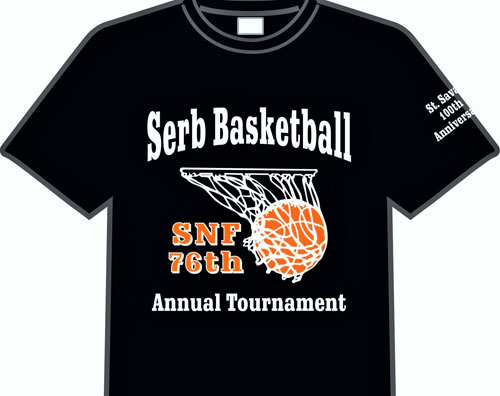 [fullwidth background_color="" background_image="" background_parallax="none" parallax_speed="0.3″ enable_mobile="no" background_repeat="no-repeat" background_position="left top" video_url="" video_aspect_ratio="16:9″ video_webm="" video_mp4="" video_ogv="" video_preview_image="" overlay_color="" overlay_opacity="0.5″ video_mute="yes" video_loop="yes" fade="no" border_size="0px" border_color="" border_style="" padding_top="20″ padding_bottom="20″ padding_left="0″ padding_right="0″ hundred_percent="no" equal_height_columns="no" hide_on_mobile="no" menu_anchor="" class="" id=""]
[fusion_text]Celebrate and show your spirit for the 76th Annual SNF Basketball Tournament with special edition t-shirts and hats.
T-shirts and hats will be available Friday and Saturday evening and all day Sunday. Anyone wishing to purchase in advance should contact the Church Office at 219-736-9191.
The t-shirts and hats will be available as you enter the main entrance to the Pavilion next to the Admission Fee and Food & Drink Ticket Sales tables.
The t-shirts and hats are available only in black. Sizes vary from youth to XXXL with limited availability in each size.
T-shirts and hats will be available for sale as long as supplies last.
Prices:
[/fusion_text]
[images picture_size="fixed" autoplay="yes" columns="1″ column_spacing="13″ scroll_items="" show_nav="yes" mouse_scroll="no" border="yes" lightbox="yes" class="" id=""][image link="" linktarget="_self" image="https://www.saintsava.net/wp-content/uploads/2015/05/snf-2015-caps.jpg" alt=" 76th Annual SNF Basketball Tournament Hats $10″][image link="" linktarget="_self" image="https://www.saintsava.net/wp-content/uploads/2015/05/snf-2015-t-shirt.jpg" alt=" 76th Annual SNF Basketball Tournament T-shirts $15″][/images]
[/fullwidth]